Spending time in a stunning place, taking in fresh air, enjoying plenty of walks, cosying into a gorgeous home away from home… why wouldn't you have your four-legged friend with you? The great news is that dogs (and owners) are very welcome at most of our lodges!
You are also spoilt for choice for dog-friendly walks in the Highlands, be it in forests or up a hill, there's something for every explorer, human and canine.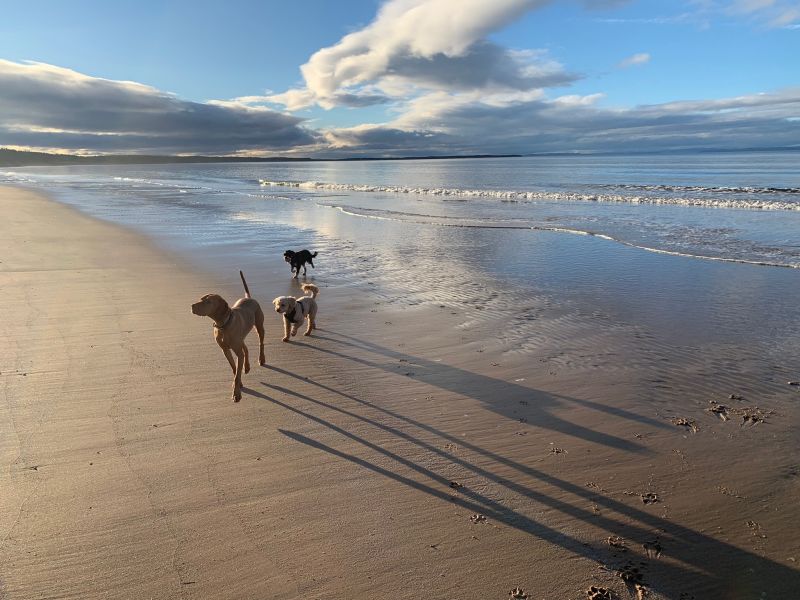 Here are some of our favourite places:
The Glenlivet and Tomintoul area is fantastic for walking, and is an often-overlooked spot which guarantees some peaceful wanderings. One of our favourite walks in the area is the circuit from Tomnavoulin (also the name of a lovely whisky) to Carn Damh which offers superb views across Glenlivet. Look for the Speyside Way waymarkers as you cross the ridge; though the ascent is much less busy from the east side.
A good outing should always end with a nice pub or café. In this case, the Glenlivet Bike Café is within a short distance and your pooch is very welcome to join you inside.
The same folk who run the Glenlivet Café, also own the Nethy Café where, after your walk around the Loch Garten Nature Reserve, you can stop to reward yourself with a scrumptious piece of cake and some delicious Glen Lyon Roastery coffee. Loch Garten and Loch Mallachie are the jewels in the Abernethy Forest, which also boasts a wide array of wildlife as well as being one of the last strongholds of the elusive Capercaillie. Please be mindful of ground-nesting birds during nesting season (April – August) and keep your hound under close control.
The calming effect of walking through these forests, along peat-filled Highland lochs is second to none.
These lochs are also great to swim in but please check for signs of algae bloom which can be harmful to you and your dog. We found the mobile phone app 'Bloomin' Algae' very useful and accurate.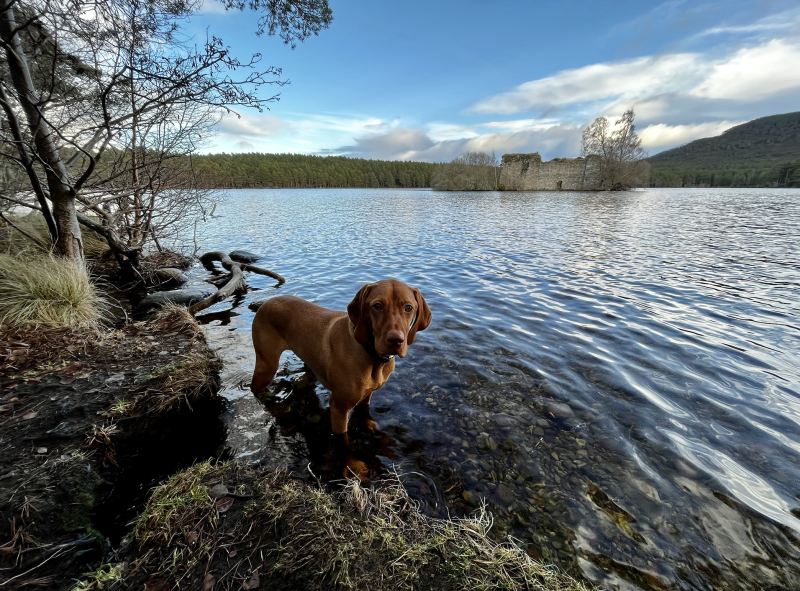 Aviemore is not just home to stunning scenery and walks on every level, but also a place to buy goodies for your dog. Pampered Pets opened their store in 2022 near the Myrtlefield Centre and they stock anything you or your pooch could wish for.
While in Aviemore, why not book a session at the local dog park where a secure fence and plenty of agility equipment guarantee some carefree running around time.
The Perthshire countryside is also rich in rolling hills, cascading waterfalls and clearly earns its name as the Big Tree Country.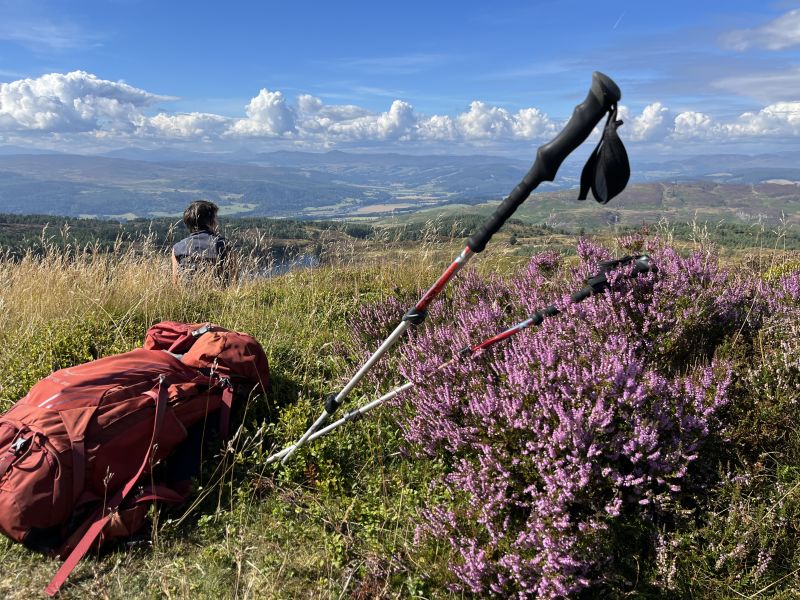 Lady Mary's Walk in Crieff is a favourite among locals so you might well encounter other doggie friends. The walk meanders along the river Earn before climbing gently to a viewpoint at Laggan Hill.
As the walk passes The Glenturret Distillery (dogs are allowed in the grounds), you might feel inspired to check out The Tower back in Crieff where you can enjoy a dram or two and your dog a bowl of fresh water.
Aberfeldy is worth a stop for its wonderful Watermill Café & Bookshop (dogs are allowed in the outside area) and its Birks (a landmark feature walk and the location which inspired the famous Robert Burns' poem). If you're running out of dog treats though, you can stock up at Pets Etc. on Dunkeld St before you venture off exploring the nearby Weem Wood walk. It's a great place for an explore!
On all countryside walks, please be a responsible dog owner, pick up your dog's poo and watch out for any livestock and wildlife. Leave gates as you find them. And have fun!