A boost to your health and wellness is a given on any Highland holiday: the freshest of air, rest, relaxation and outdoor activity in beautiful natural surroundings. A holiday can also be a great opportunity to try a new activity like yoga or wild swimming, take time to relax, or find a way to have a healthier balance in your life. If you'd really like to enhance the health and wellness benefits of your time in the Highlands, we have a few good ideas for you …
Highland Quietlife

Forest bathing, or 'shinrin-yoku', is the Japanese practice of immersing yourself in nature to enhance your health and wellbeing. Local Nature and Forest Therapy Guide Cath Wright has established Highland Quietlife to share this practice with others: how to slow down, 'bathe' in the forest goodness and truly reconnect with yourself and the natural environment around you. A typical 1.5-2 hour forest bathing session involves a 'tree speed' short walk through beautiful local pine woodland and ends with a traditional tea ceremony. To find out more about this relaxing and rejuvenating experience, head over to https://www.highlandquietlife.co.uk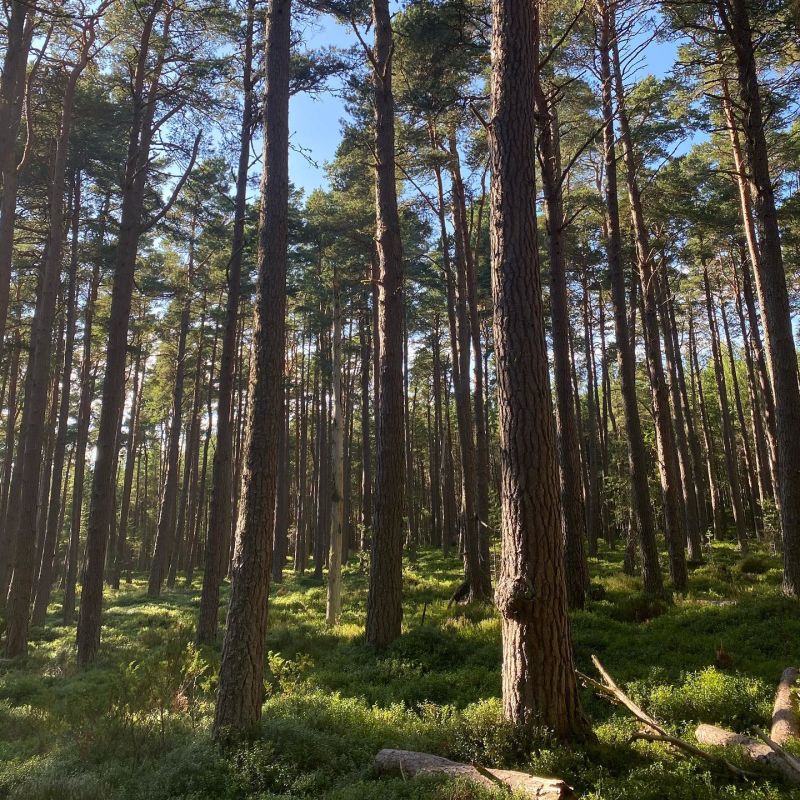 Yoga
Yoga is an ancient movement and breathwork practice that provides innumerable positive health benefits including improved physical flexibility and strength, stress relief, better quality of sleep and increased energy and vitality. While you're here in the Highlands, there are many ways to give it a try, including classes at the local leisure centres. If you're more experienced in yoga, take the opportunity to try a new style and teacher:
You'll be in very safe hands with Sara Paul at GetSetFit. Sara is a very experienced and popular yoga teacher who also works in falls prevention and fitness instruction. She offers regular weekly local classes, as well as private sessions, occasional workshops and online. Highly recommended for one-to-ones, especially if you have an injury or health condition and require that extra input with your yoga practice. Sara's care and attention to all things fitness and function will put you on the right path!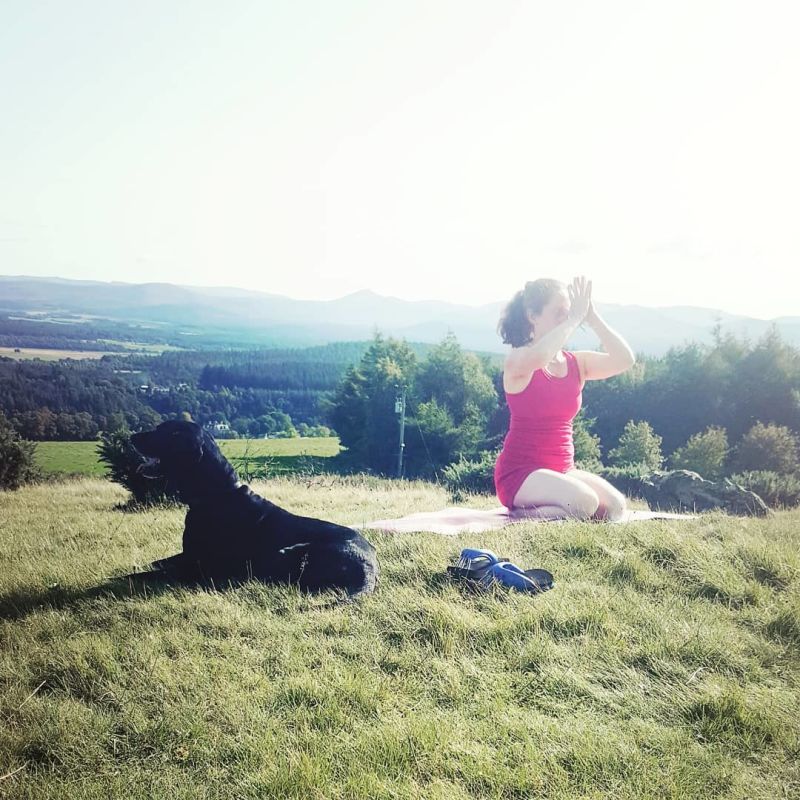 Sara and her dog yoga-ing in the Highland sunshine
Izzy DuBois offers regular weekly yoga flow classes at Crossfit Cairngorm, combining vinyasa flow with deeper restorative stretches, open to all levels and visitors as well as members. She's also available for private sessions - get in touch with your enquiry [email protected]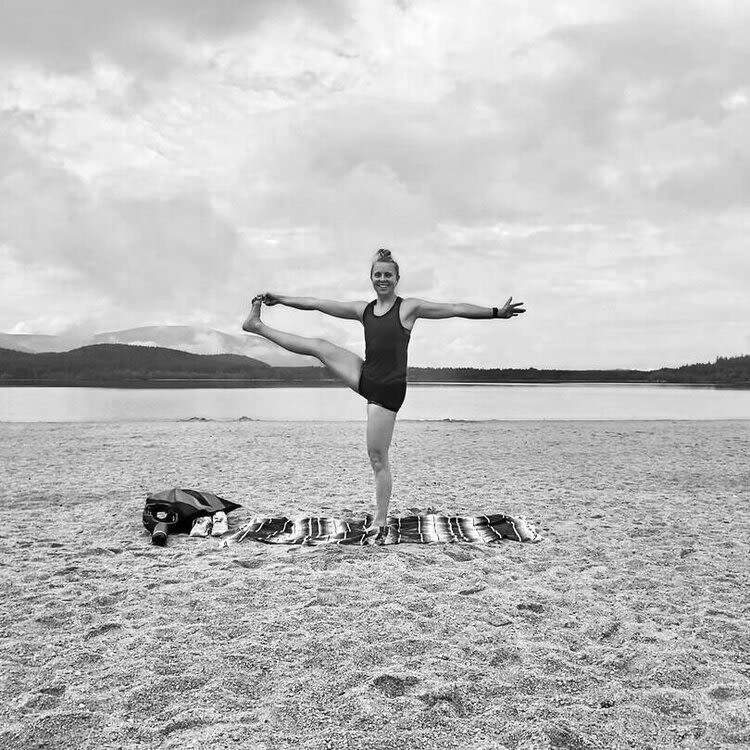 Izzy from Crossfit Cairngorm practising her yoga moves down by the loch!
Katie White is a very experienced yoga teacher who delivers thoughtfully designed and deliciously creative flows in her local regular classes, as well as retreats, online and private sessions. Her grace and kindness will stay with you long after you get off the mat www.katiewhiteyoga.com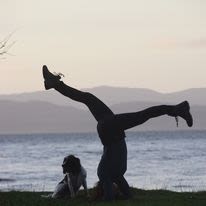 Katie with her dog Babs!
Julie Paterson of Total Yoga Highlands offers a variety of classes in both indoor and outdoor magical settings. From ashtanga to yin yoga as well as callanetics, Julie's friendly, well-paced classes are popular and enjoyable. Keep an eye on her Facebook page to see what's on.
Wild Swimming

We have some really lovely wild swimming spots here in the Highlands, so grab the opportunity while you're here to explore! In terms of outdoor swim safety, check out Visit Scotland, the Outdoor Swimming Society and local swim coach Beyond the Water's blogs, particularly if you're a newbie to this activity. The water can be seriously cold in the Scottish lochs and seas - do take care!
Favourite local swim spots include Loch Morlich; Loch An Eilean; the Green Lochan at Glenmore; Feshiebridge; Loch Insh; Loch Alvie; Loch Vaa; Loch Garten; the River Spey by Grantown-on-Spey; and Lochindorb, a freshwater loch north of Grantown-on-Spey. If you fancy a dip in the ocean, around an hour's drive north you can find glorious beaches along the beautiful Moray Coast.
Regular visitors to the Cairngorms area may wish to join the friendly and welcoming Cairngorm Wild Swimmers' private Facebook group. It's a good way to join in with social arrangements for swims, training, adventures and expeditions with other like-minded swimmers.
If you'd love to build your confidence in swimming outdoors, how about booking a half-or full-day guided swim adventure with local wild swimming expert Alice of SwimWild? Anyone who goes wild swimming will tell you that you won't regret experiencing the physical and psychological benefits of cold water immersion!
Gym and Swim
We all know there's ample opportunity to get active outdoors in the Scottish Highlands. However, if you prefer to workout in a gym, class or pool environment, there's no reason to slack off while you're here on holiday! Local leisure centres in Aviemore, Grantown-on-Spey and Highland Perthshire have fantastic gyms and a good selection of fitness classes and swimming pools that you can use on a visitor/drop-in basis. And for the Crossfit fans, Crossfit Cairngorm in Aviemore will not disappoint! Check out timetables and booking requirements in advance to avoid disappointment.