Secret Strathspey: Tales of clan feuds, fairies, monsters and more
Learn about all of this and more during these fabulous guided walks around the Cairngorms National Park
Experience a 'walk through time' to explore and learn about local history, folklore and foraging with Marcus from Secret Strathspey. From tales of clan feuds, fairies, monsters and more, to foraging for edible and medicinal plants just like our Highlander ancestors did to survive living in this wild place, there's so much to discover and enjoy on a variety of different walks.
A former secondary school History and Religious Education teacher from Sussex, Marcus moved up to Strathspey with his family a few years ago. Marcus became absolutely fascinated with the stories, legends and plant folklore of the Strathspey area. He's done a colossal amount of research and now aims to show off the Strath's amazing history via friendly and knowledgeable guided walks to locals and visitors. As Marcus says, 'The history of the Strath has been hidden for so long, lying under the surface, in dusty books and old newspapers, that it's time to enable both locals and visitors to access this incredible legacy of our ancestors'.
As well as regular weekly walks in different locations around Strathspey, Marcus also offers special walks as stand-alone events or linked to local community events. I had a marvellous outing with my two young daughters at the recent Strathspey Railway Diesel Gala family-friendly guided walk. Joining a group of curious people of all ages, the blue sky and sunshine provided the perfect backdrop! Starting at Boat of Garten Station, Marcus enthralled us with the history of the local railway and some alarming - by today's standards! - stories of children's jobs working on the railway in the 1890s. My daughters did not like the sound of all that hard work!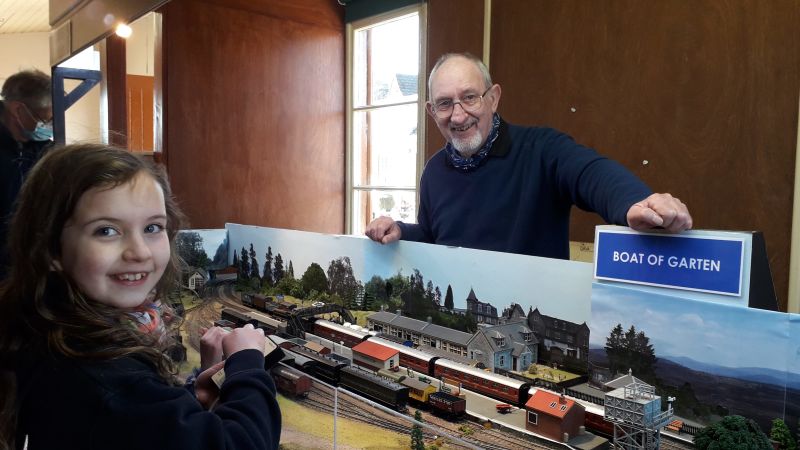 Having a go at controlling the incredible model railway at Boat of Garten station, restored by the dedicated volunteers at Strathspey Railway
After watching the diesel train pass by, Marcus took us down the road towards Milton Loch, while on the way sharing with us some interesting building construction in the village. At the loch, we were lucky to see swans, mallards, goldeneye and heron. Onward we went towards a natural mound, Tom Pitlac, the site of an ancient castle, just south of Boat of Garten on the edge of the River Spey. Up on the mound, with fantastic 360 degree views of the surrounding area including the diesel train coming in from Broomhill, Marcus regaled us with the history of the Castle of Glencarnie, including the Gilberts of Glencarnie during the time of Robert the Bruce.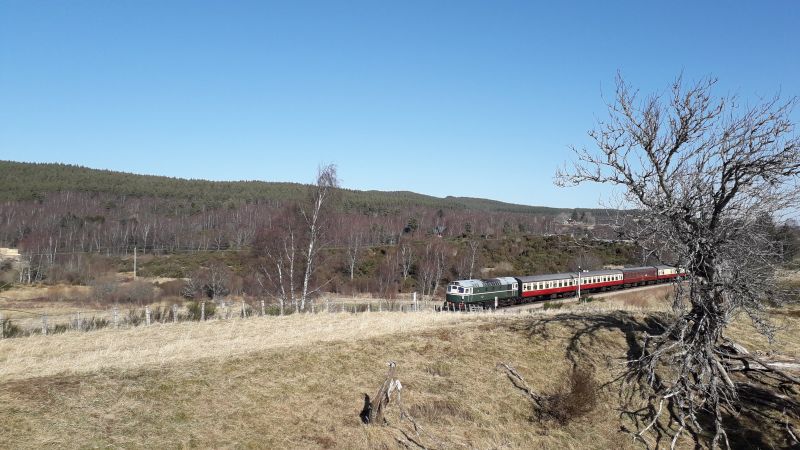 Watching the diesel train from Tom Pitlac, looking towards Drumuillie
With Marcus's vivid descriptions and enthusiasm, he made history come alive for us in that special place. My daughters recounted some of what they had heard to their dad later on, so they were obviously learning too - they especially liked the story about who was stealing the cream from a local farm in the 1920s!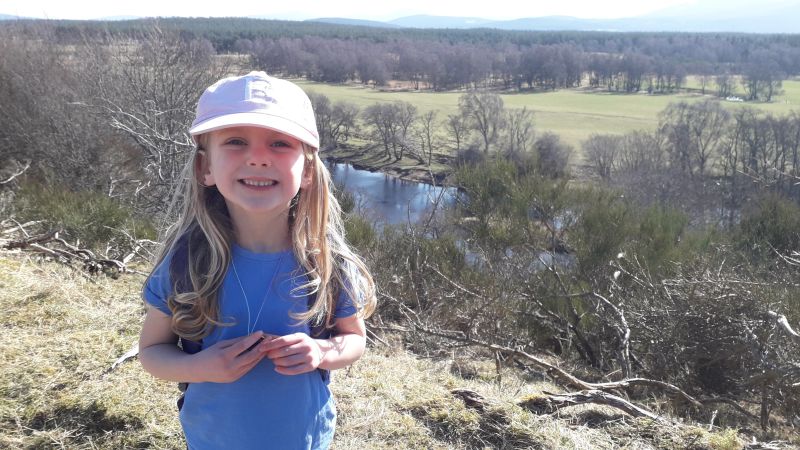 Enjoying the view of the River Spey from Tom Pitlac
Marcus is a natural storyteller with an obvious passion for our local history and folklore. His friendly, knowledgeable manner creates a relaxed, fun and enjoyable guided walk experience.
Finally, here's a wee history teaser from Marcus: "It's October 1384. A party of soldiers move slowly towards the Castle of Abernethy (known today as Castle Roy). Leading them, on horseback, is Alexander Stewart, the fourth son of King Robert, the Wolf of Badenoch. Alexander is at the height of his power. He had married the rich Countess of Ross and taken her lands, even though he was already 'married'. He had taken over the Bishop of Moray's land in Rothiemurchus, using cattle thieves to ensure that the rents were not collected. Now he has been given the Lordship of Abernethy, another title to give to one of his illegitimate sons. For his brother, the Earl of Carrick, enough is enough. How could his father keep rewarding Alexander for his ruthless behaviour? The Earl hatches his own plan, remove the King..." To find out what happened next, you'll have to ask Marcus when you join one of his walks!
Secret Strathspey's website and Facebook page provide booking details for upcoming events. Join the regular weekly walks or get in touch to arrange a bespoke outing for you and your group. In terms of length and content, some walks are more suitable for families and children than others - do get in touch with Marcus to check!