Introducing our new sustainable 'in lodge beauty' experience.
Sustainable tourism is at the heart of everything we do.
Here at Seasgair HQ we are always thinking about sustainable tourism and new experiences that we can offer our guests. We are delighted to introduced a sustainable experiences that can be enjoyed in the safety and comfort of your holiday lodge, our 'in lodge beauty' pack. We extensively tested a range of sustainable natural Scottish beauty products (a tough job but somebody had to do it!) and we are so proud to be working with Siabann, Estia, Amaranthine and Blushberry Botanicals, to create these wonderful experiences for guests.
For our lady's sustainable beauty, you start your experience with Blushberry's Rose Clay Exfoliating Face Polish to prepare your face, follow this with the Amaranthine's Radiance Face Mask and a long soak in the bath using Estia's Ekati's Relaxing Lavender Bath Salts. Then follow with Siabann's Shea Butter for your body and Amaranthine's Facial Oil for a silky smooth finish to your facial. We have also included the Siabann's Hand & Nail Cream and Berry Kiss Lip Balm to make you feel amazing from head to toe!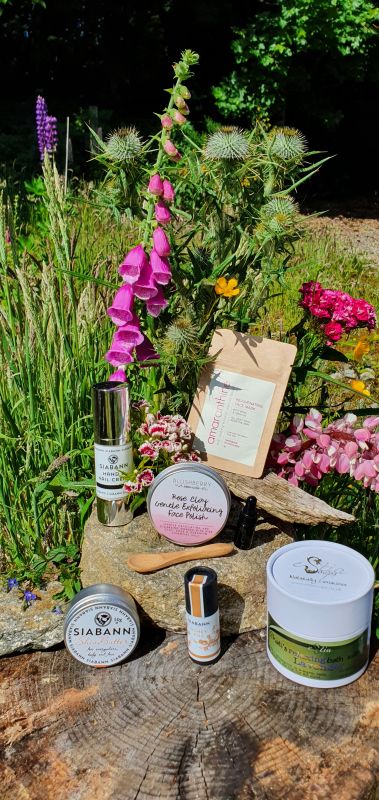 Our men's sustainable beauty is just as special, we have included Estia's Erevos Soap that can be used as a facial cleanser, hair shampoo, and shaving soap followed by the Minthi's Tonic Bath Salts which are your best friend when it comes to relief from sore, achy muscles. Menthol in peppermint oil has a pleasant cooling effect that increases the blood flow, you can even use them as a foot soak. We have included Siabann's Bearr Man range which are gentle, vegan skincare products for the grizzly men out there but don't worry we have been assured it is never, ever tested on real bears! The Man Balm's minty butteriness will soften your rough patches from chapped lips to rough hands & grizzly feet....and everywhere in between! The Soothe is an easily absorbed lotion that moisturises & hydrates your skin after shaving. This is the perfect fuss free way to indulge while on your holiday!
To add to the sustainability of the experience we are making a donation from each purchase to Scotland: The Big Picture, who are rewriting nature's story, seeking to return abundance and diversity of life to Scotland's land and seas, so that wildlife can flourish and people can thrive.
Separately the lady's products would be over £50 but the total experience from Seasgair is just £39.95 and the men's products would be over £38 but the total experience from Seasgair is just £31.95. Drop us an email to reserve for your stay and we will make sure it is in your lodge awaiting your arrival.