Did you know that for every single booking made with Handpicked Lodges we donate £1 to Disability Snowsport UK (DSUK)? This fantastic charity carry out amazing work both at UK ski centres and abroad. Here is a taste of what they have planned for the winter and beyond, and some ideas of how you could get involved... ​
DSUK Fundraising Officer Kirsty Bruce told us: "The physical, mental and emotional benefits of taking part in snowsports go way beyond the hour-long lesson. Skiing and snowboarding are just vehicles for what we do; promote social inclusion, build confidence, provide mental stimulation and life-enriching experiences. The valuable donations made by Handpicked Lodges and your clients help the charity breakdown the physical, social and financial barriers to adaptive snowsports."
​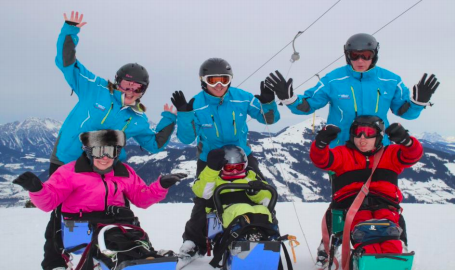 DSUK Activity Weeks in 2019
The 2019 Activity Weeks have almost sold out with only a few spaces remaining. DSUK Activity Weeks provide week-long fully supported adaptive snowsport instruction within an alpine setting that allows disabled skiers and boarders to access the mountains and all their benefits

Take a look at their brochure here to see more detail on how these are organised: https://tinyurl.com/ybw5nphq
DSUK partner with Crystal Ski to provide packages that have everything that disabled skiers and boarders require. They ensure that every individual's needs are met regardless of their disability
The trips are about so much more than skiing or boarding alone. For many of the DSUK members this is the first time they have travelled alone and the activity weeks provide a real sense of independence and the opportunity to build self-confidence and real life skills. All this in a healthy and natural environment!
Activity Week Volunteers Wanted - can you help?
DSUK are always looking for competent skiers who would like to volunteer for their Activity Weeks. Suzanne Higham works as an in-house solicitor for TUI and volunteered as an Activity Week Helper in Andorra. "The Activity week went beyond my expectations, it was quite simply one of the best and most inspiring weeks I've ever had in my life and I loved every single second of it. Although I've been around individuals who have disabilities before, this was certainly something different because these individuals have a goal, they're all working on developing a special skill and what these skiers achieved during this activity week was absolutely

If you would be interested in volunteering on a DSUK Activity Week, please get in touch with Rachel for more information on [email protected]

Aviemore Santa Run – Saturday 15th December
DSUK are looking for as many sensational Santas and energetic little Elves to join them for their annual festive fun run through Aviemore. Choose from a 1-mile fun run or a winter warming 5k. The HPL team and their families always take part in this Aviemore annual event - why not join us? Yule love it!
For more information contact [email protected]

​Virgin London Marathon – 28 April 2019
DSUK have managed to secure five much sought-after places for the 2019 London Marathon. If you would like to be in with a chance of running for DSUK please email [email protected] for an application form. By accepting one of DSUK places, you will pledge to raise a minimum of £1,600 (excluding Gift Aid) for Disability Snowsport UK and pay the £100 Virgin London Marathon registration fee.