Loch Insh Watersports Centre near Kincraig provides instruction and hire for a huge array of sports - both water and land based - from stand up paddle boarding, windsurfing, sailing and kayaking to dry slope skiing, archery and mountain biking. The centre is especially famed for its windsurfing programme, with three of the recent Loch Insh alumni currently competing at youth international level, including recently crowned Youth Sailing World Champion in Girls RSX class, Islay Watson from Aviemore. It truly is an outdoor paradise for any age, but in particular a great place to send your kids for anything from a couple of hours to a whole day - or more!

But don't take our word for it - read what our guest blogger for this week has to say on the matter! Hamish who lives in Aviemore, attended the watersports non-residential camp at Loch Insh for one exceptionally hot and sunny week, and wrote down his thoughts for us at the end of every day.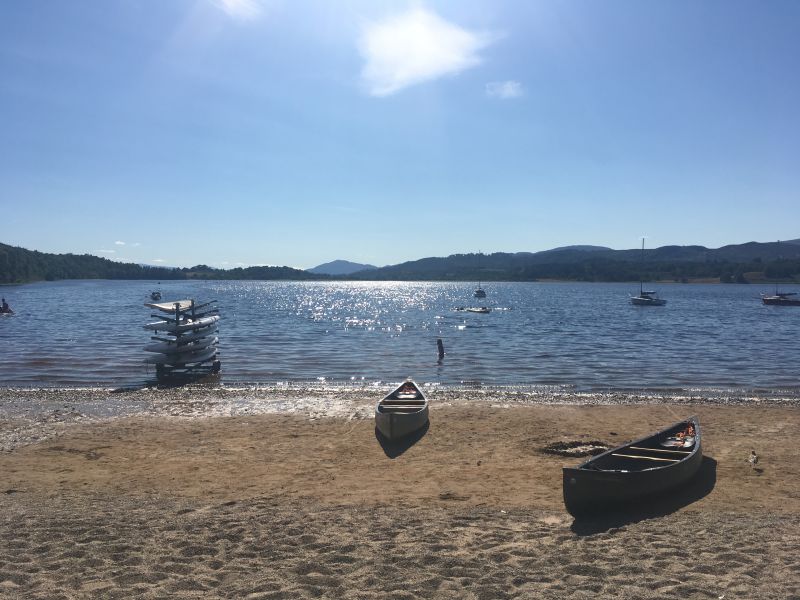 Monday
On Monday we went open water canoeing, then we started learning windsurfing. We learned how to get up onto the board and how to pull the sail up from the water. We played wobble board to help us with our balance. After lunch we did some archery then it was home time!

Tuesday
On Tuesday we went kayaking and I found it quite easy. After kayaking we did face painting and it was really fun. I had camouflage paint like a soldier and my brother had the Scottish flag. We both looked awesome.

Wednesday
On Wednesday we went windsurfing again, it's really hard. When we stopped we went to a playpark there called Kids Kingdom it was really fun. We played a game called camouflage which is a bit like tig or hide and seek. Then we joined up with the older ones and did orienteering in groups, I really enjoyed it.

Thursday
On Thursday we went sailing and I loved it! It was favourite thing in the week because I was the skipper for most of it! I would love to go back and do more sailing.

Friday
On Friday we built rafts - the girls' raft broke as soon as it hit the water! I learnt how to do square lashing and I've been practicing at home. Then we all went paddleboarding and then had a barbecue on the beach. It was a great week.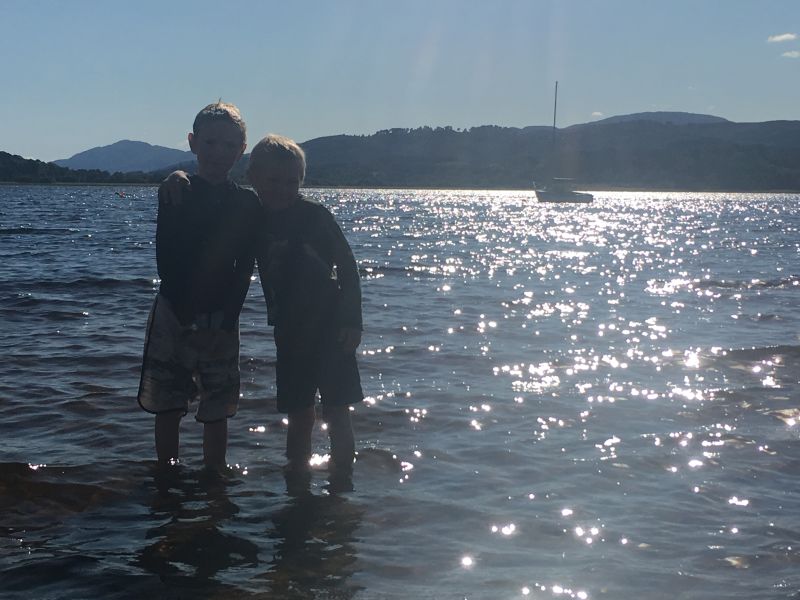 Would you tell other children to go to Loch Insh? Yes!
What do they need? If you go you should take a sun hat, dry clothes, a towel, suncream and a bottle of water and a packed lunch if you are staying all day like I did. They have wetsuits and wetsuit shoes there that you can use so don't worry if you don't have all the equipment!

All of our lodges are within easy reach of the watersports centre, and so perfectly placed to take advantage of all this great venue has to offer. Get in touch with us to see if we can help create your perfect Highland holiday.