If you want to truly immerse yourself in the wild and exhilarating nature all around you in the Cairngorms, what better way than to take the plunge and try some wild swimming in our rivers and lochs? We recently met up with local wild swimming expert Alice Goodridge to find out why there is such a buzz around wild swimming right now….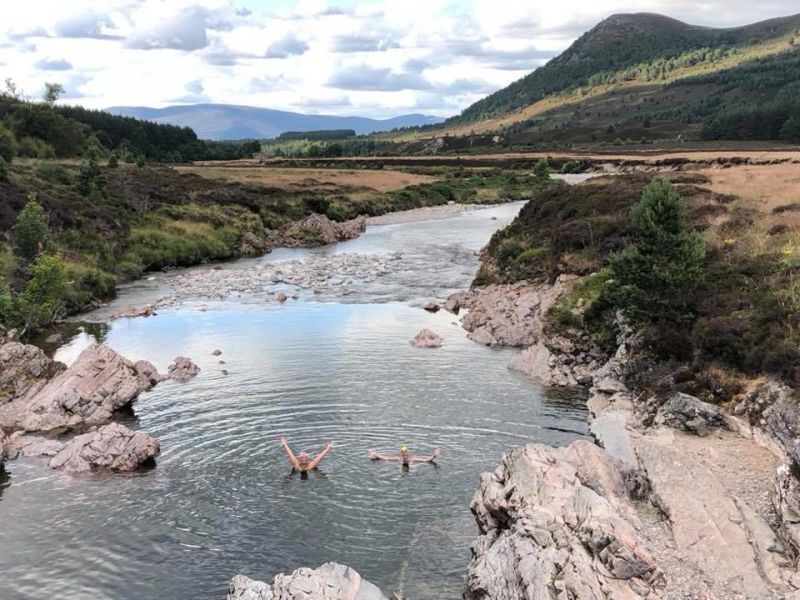 Alice is a long distance and open water swimmer who has achieved some quite extraordinary feats in the sport. Having swum the lengths of Lake Zurich (16.4 miles) and Loch Lomond (21.6 miles), she has also swum the English Channel solo (21 miles) - plus a further 5 times as part of a relay team. She is an Open Water Swimming Coach and has swum in some truly unique places on our planet - from glacial lakes in the Arctic Circle and mountain lakes in China and Kyrgyzstan, to spring-fed rivers in Nigeria and around tropical islands off the coast of Sierra Leone. You may have spotted her on the front cover of The Times earlier this year, when she was pictured smashing her way through thick ice atop Loch Insh before a quick dip one morning.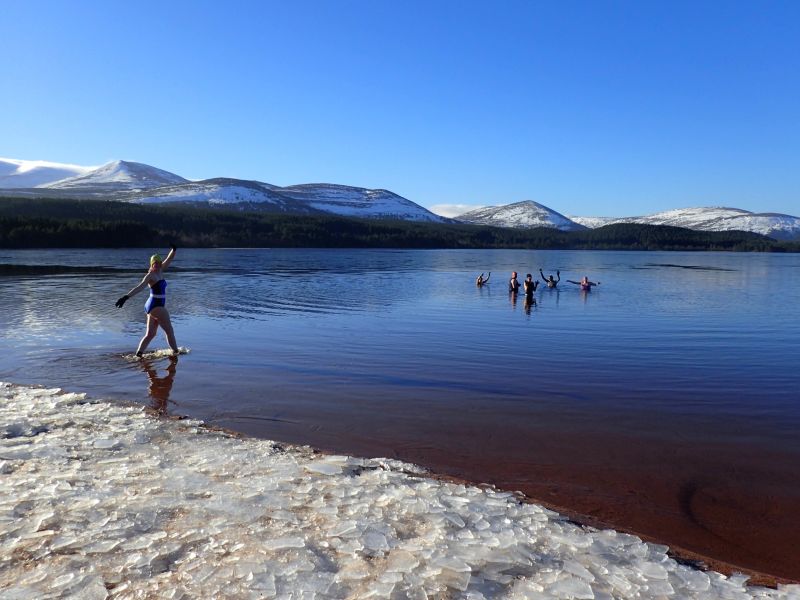 But despite all these phenomenal acts of endurance, Alice told us that her establishment of the Cairngorm Wild Swimmers group in 2018 is by far her proudest achievement, and is bowled over by the growth of the group over its first year. She is a huge believer that wild swimming can be enjoyed by absolutely anyone, regardless of experience, age or fitness level. Whether it's a short dip in a river pool or a long distance swim across a vast loch, Alice stresses that the physical and mental health benefits of wild swimming are enormous - and almost immediate. She compares the "buzz" you experience after just a few minutes in the water to how you feel once you reach the high summit of a munro - but without enduring the long upwards hike to achieve it! She has seen open water swimming counteract long-term and acute pain in many who try it for the first time, and has witnessed the transformative effect it can have on sufferers of depression and anxiety. "It's just a little bit of meditation and mindfulness in my day" she says "plus it's just an excuse to get outside and into nature!".
There really must be "something in the water" that has resulted in more and more people discovering the sheer joy and exhilaration of wild swimming. Last month, over 35 people turned up for one of the group's Sunday morning swims, and even during the winter months at least 20 regular swimmers take part every week. It mirrors a huge growth in interest in the sport all over the UK, which is bringing more and more swimmers to this part of the world to enjoy our clear and quiet lochs and rivers. Alice also recently launched swimwilduk.com, a company which offers wild swimming adventures, coaching and events throughout the Highlands and Islands. Through SwimWild, she organised the inaugural Scottish Winter Swimming Championships - and was amazed when 200 swimmers signed up for the races. She also organises the SwimWild Highland Gathering which takes place in nearby Inshriach, a chance for swimmers of all levels to enjoy fun and sociable swims in beautiful Cairngorms locations.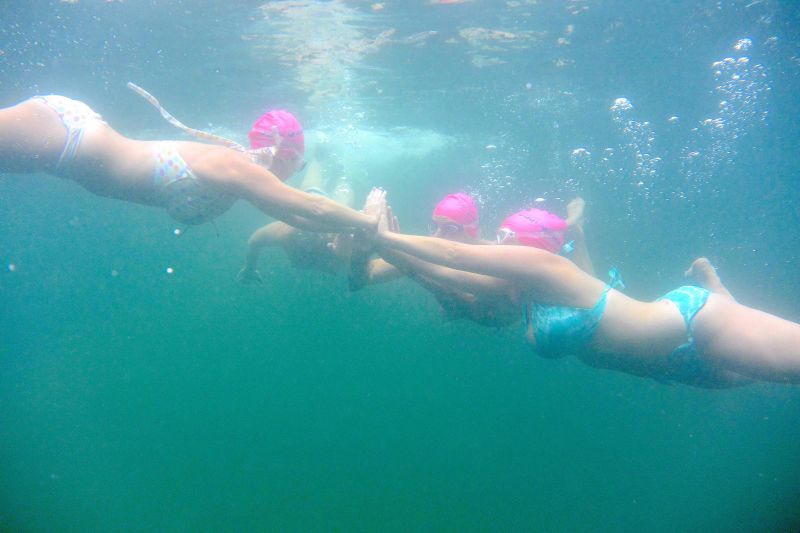 Meanwhile, the Cairngorm Wild Swimmers meet week in, week out, on Sunday mornings on Loch Morlich beach at 9am (9.30 in winter). The more experienced might do a longer swim to the far shore and back, but beginners are encouraged to take their first steps (or strokes) with short swims parallel and close to the beach. No matter how far you manage to swim, everyone looks forward to the ritual cake and coffee afterwards! - usually enjoyed at the Loch Morlich Watersports Cafe on the beach or the Pine Marten bar at Glenmore. This friendly group is open both to regular attendees who live in the area - and anyone who is here on holiday who fancies a splash in our wild waters. Why not go along and dip a toe in next time you are here?
Thanks in part to Cairngorms Wild Swimmers, the Cairngorms is becoming a well-known destination for the activity. With so many wonderful swimming locations to choose from, we asked Alice to share some of her other favourite locations for wild swimming in the area, and here are her top 5:
The Green Lochan, Glenmore - a beautiful setting, calm water and easy entry and exit from the shore.

Feshiebridge - clear water and a big river pool - a favourite with local families in the summer

The River Feshie at Achlean - a cycle or half hour walk from Feshiebridge but well worth the trip!

Loch Insh - another easy entrance and exit, but early mornings or evenings are best, to avoid the watersports "traffic"

Loch Alvie - a picturesque spot, great for wildlife spotting - one of the Cairngorm Wild Swimmers recently had an eagle fly right over her head whilst swimming there!
We also asked Alice for her top tips for safe and enjoyable wild swimming.
First and foremost is the advice to always swim within your abilities - "it's always better to swim up and down by the shore where you know you can escape, than to aim for an island then realise you have no strength for the return leg!" she says. If swimming in a river, check the rate of flow first.

Secondly she advises to always swim with someone else - even if that person is watching you from the shore. (Better still of course, swim with a welcoming local group like the Cairngorm Wild Swimmers!).

Plan ahead - always check out your entry and exit points before you commit, and ensure you have a warm hat and other warm clothes to put on afterwards and can get a hot drink.

Clothes and equipment: A wetsuit is optional (Alice always swims without one!) but neoprene socks or booties are essential as you may not be able to see where your feet are. A brightly coloured swim cap is needed to that you can be seen by other water users and easily spotted from the shore, and for longer swims a tow float is a very good idea.
For more useful tips on from Alice on getting started and staying safe, head to her blog on VisitCairngorms here: https://blog.visitcairngorms.com/go-wild-wild-swimming-in-the-cairngorms-with-our-10-top-tips/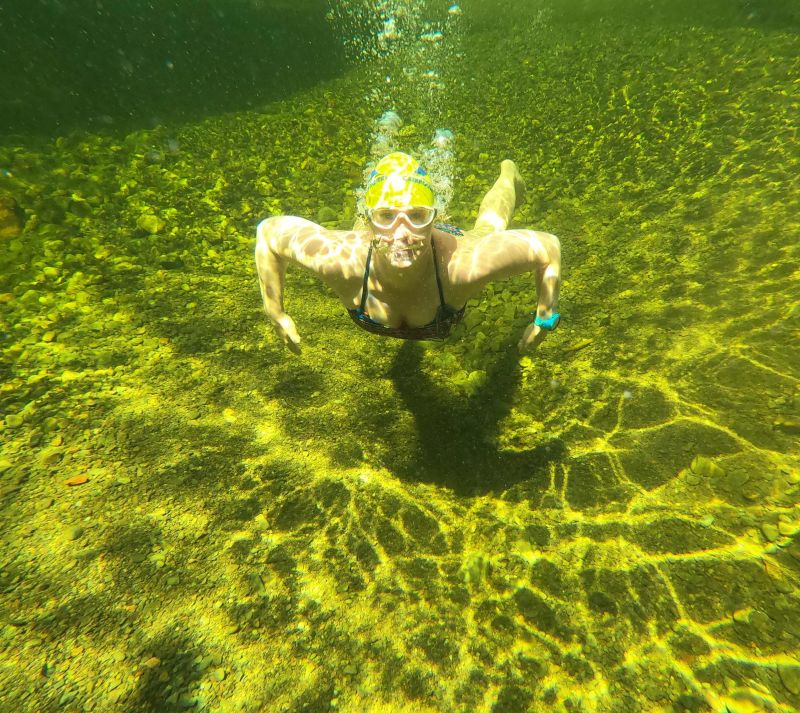 If wild swimming sounds like something you might like to try on your next trip to the Cairngorms, join the Cairngorms Wild Swimmers Group on Facebook for more tips on where to go and news of more meetups with Alice's wonderful group of friendly swimmers.
The SwimWild Highland Gathering takes place over the weekend of 20-23 September at Inshriach. On-site accommodation is already booked out, but you can go to our bookings page to check availability in our lodges.
The Scottish Winter Swimming Championships take place on March 7th next year.

They are also running an Introduction to Open Water course in June (almost full!) and another one in July at Loch Morlich - learn or improve with experienced coaches and safety cover. Get in touch via their facebook page to book.
Happy swimming!