Are you one of the millions of wildlife lovers enchanted by the BBC's Winterwatch programmes? (All filmed of course in Nethy Bridge, close to many of our lodges.) Then you'll be delighted to hear that there is somewhere for you to watch usually shy and elusive Cairngorms wildlife in their natural habitat – all from the comfort of a heated hide! We were lucky enough to spend an evening last week with Speyside Wildlife at their hide near Loch an Eilein on the Rothiemurchus Estate – and were visited by some of the species that have become favourites with Winterwatch audiences.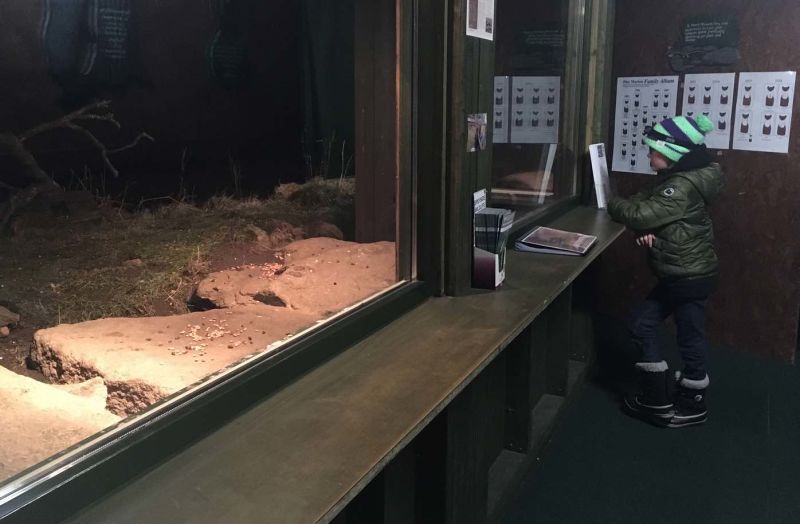 We met our guide Kate close to the loch car park shortly before 7pm, and she led us under a beautifully clear and starry sky to the hide. Even on a cold night, the hide soon warmed up and we settled in for our wildlife stakeout. Kate warned us that badgers hadn't been seen for some weeks so it was unlikely that they would make an appearance that night, but we might spot a Pine Marten or two.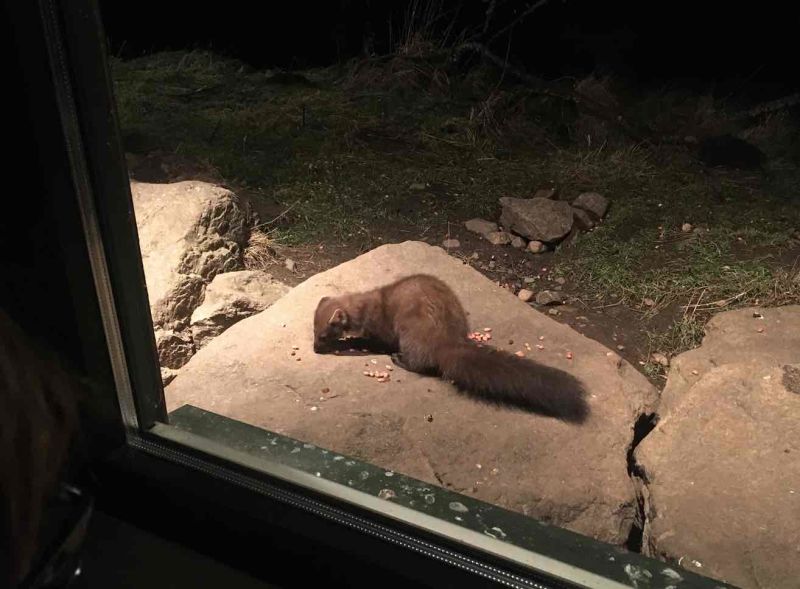 She then left us for a few minutes to scatter some peanuts and raisins at the front and back of the hide, where the largest viewing windows look out to, and where the ground is illuminated ready for the stars of the show to appear. Every so often during the spring the guides might also leave an egg for the pine martens to discover, or as a very special treat, a little peanut butter.
As we waited, Kate told us that sometimes owls could be seen perched on the branches right at the edge of where the hide's lights reached. Deer would sometimes make an appearance too. Twenty minutes into our watch, my son Hamish spotted a small mouse for a brief moment, and then again 15 minutes later. As the wind whipped up the tree branches and the long grasses outside, Kate explained that sometimes the strong wind put the animals off from venturing out of their homes. At that point I began to wonder if a brief flash of mouse would be all we would go home with that night?
However Hamish suddenly thought he had spotted something on the night cameras, something that appeared to have leapt from one side of the screen to the other. Kate took a closer look to check – yes! A pine marten was making its way towards the hide, closely followed to our delight – by a badger! They came into view on opposite sides of the hide, so we watched them in turn. It was the first time I had ever seen a pine marten and only the second time I had ever seen a badger – both were equally beautiful and charming. The female badger snuffled off first so we spent more time observing and photographing our pine marten, whom Hamish declared "so cute!". After a few more minutes she too left, but not before Kate had identified her as a three year old female who was a regular visitor – pine martens are easily identifiable by the markings on the white "bib" on their chest. Badgers are harder to identify; as all their markings are almost identical, you have to rely on the tail shape to decide who is who.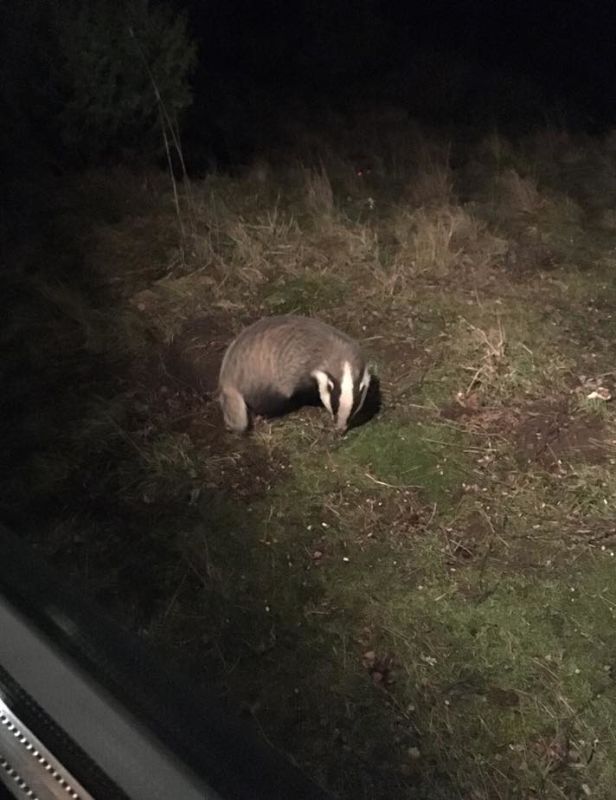 After another half hour or so we were again rewarded by another visit – this time from a young male badger, who to put it kindly, was a bit of a scruff! Kate explained that he was rather unpopular with the other males and as a result was often attacked – and in fact he bore the rather painful looking scars of a few bouts of badger fighting. He stayed for about 10 minutes and we watched him enjoying a good feed of nuts. Just like the earlier visitors, he was only a foot or two away from us, and we could hear him eating and moving about. Badgers have poor eyesight, so it's possible he wasn't always aware that we were so close by, but the pine marten was quite at ease with having us there, looking through the glass into the darkened hide right at us on occasion. At all times it's important to keep quiet and not make any sudden movements – and to keep the flash on your camera disabled. Even armed with just an iPhone, I managed to capture some wonderful shots, so any keen wildlife photographers would absolutely be in their element here. Or leave the camera behind, and simply enjoy the experience of being in the quiet company of such lovely, characterful creatures.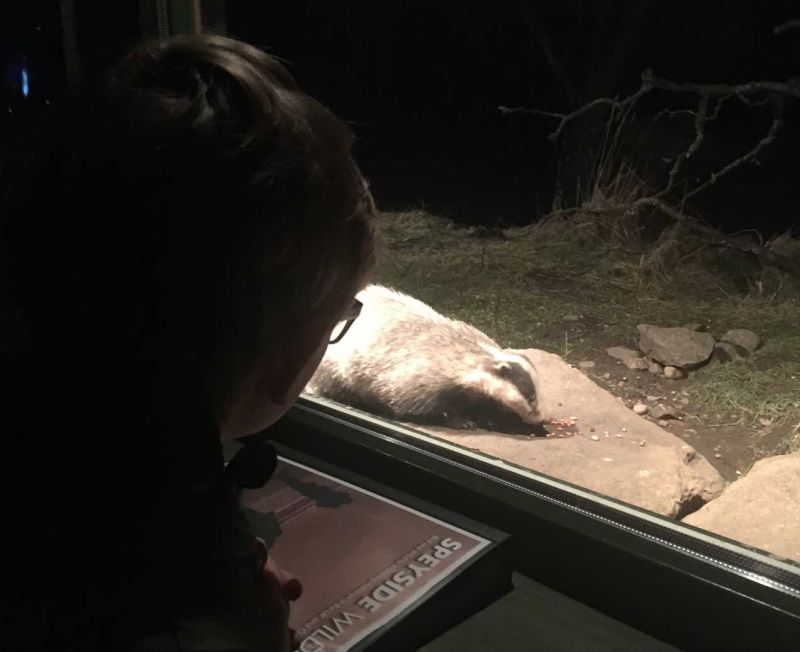 The details: An evening at the Speyside Wildlife hide costs £25 per adult and £10 per child aged 8-14. (It's unsuitable for children under 8.) Alternatively if you would like the hide to yourself, exclusive use costs £250. It's open nightly from Easter to October on an exclusive basis or as part of a group, and from November to Easter on a request basis only for exclusive use or parties of 4 people or more. Pre-booking is essential. Start times vary with the seasons - in summer the start time is 9:00pm, whilst in winter meeting times are around 6:00pm. You will have to be patient - wildlife watching involves a lot of sitting and waiting - these animals don't work to a schedule!
Best time to go? May is an especially exciting time to visit as you may spot some of the new badger cubs and pine marten kits emerging for the first time. But there is the possibility of seeing wildlife in all seasons.
Other wildlife watching ideas: Speyside Wildlife can also arrange wildlife watching day itineraries in the area. These can be tailored to your family or group but some of their popular itineraries are Pine Forest, Cairngorm Mountains, Moorland and Moray Firth, Highland Glen, Woodland Walks, River Spey Walk and Our Cairngorm National Park